Calling all breakfast adventurers! Get ready to embark on a flavour-packed journey with our Baked Cheesecake Oats! These dairy-free delights are about to revolutionise your mornings and leave you craving more.
In this easy-to-follow recipe, we've taken the goodness of DFDU Cream Cheese Style and combined it with rolled oats to create a breakfast sensation that will make your taste buds dance with joy. And the best part? It's dairy-free!
You'll love the simplicity of this recipe. Just grab your blender and a few common ingredients like chia seeds, water, a ripe banana, DFDU Cream Cheese Style, rolled oats, soy milk, sugar (adjust to your sweet tooth's liking), baking powder, and a hint of vanilla extract. Blend it all together and watch as the magic happens—a creamy and dreamy batter that will blow your mind.
Once your batter is ready, pour it into an oven-proof bowl and let it work its magic in a preheated oven at 180 degrees. In just 25-30 minutes, your Baked Cheesecake Oats will be ready to delight your senses.
To take this breakfast masterpiece to the next level, top it off with your favourite fruits for a burst of freshness and drizzle some tantalising rice malt syrup to add a touch of sweetness. The combination of flavours and textures will make every bite an adventure.
So, whether you're a seasoned dairy-free enthusiast or simply looking to try something new, our Baked Cheesecake Oats recipe is your ticket to breakfast bliss. Get ready to fuel your mornings with excitement, flavour, and a dose of healthy indulgence.
Tried this recipe at home? Make sure to share your creation with us via our social media #dairyfreedownunder & @dairyfreedownunder_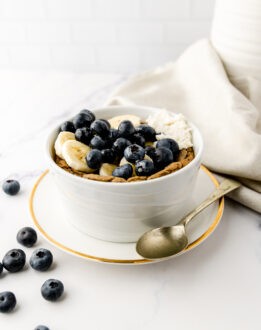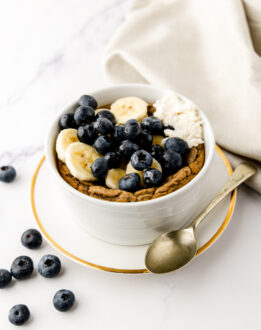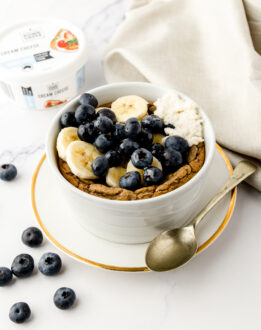 Indulge in Breakfast Bliss with Our Dairy-Free Baked Cheesecake Oats
Serving: 1
Ingredients: 
1 tbsp Chia Seeds
2 ½ tbsp Water
1 Banana
¼ cup DFDU Cream Cheese Style
½ cup Rolled Oats
½ cup Soy Milk
1 tsp Sugar (2 tsp if you have a sweet tooth)
2 tsp Baking Powder
¼ tsp Vanilla Extract
Toppings:
Fruit
Rice Malt Syrup, drizzled.
Video
Method:
Preheat the oven to 180 degrees and prepare an oven-proof bowl.
Combine chia seeds and water in a bowl and set aside to thicken for at least 5 minutes.
Blitz banana, cream cheese, rolled oats, soy milk, sugar, baking powder, vanilla, and thickened, chia seeds in a blender until combined.
Pour into a baking bowl and bake for 25-30 minutes.
Serve topped with fruit and rice malt syrup.