Yes the words lentils and delicious can go together. Lentils are a great substitute for meat, they have a texture to match and are high in protein. We know you'll love this recipe!
Serves:  4
INGREDIENTS
1 x red capsicum, 1 x yellow capsicum, 1 x green capsicum
Olive oil
1 brown onion diced
2 medium carrots grated
300g mushrooms finely diced
2 cloves of minced garlic
Red split lentils
2 cups vegetable stock
1 x Tin tomatoes
5 basil leaves
Salt and Pepper to taste
Dairy Free Down Under mozzarella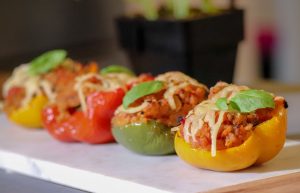 METHOD
Cut the capsicum in half's and take the seeds out, wash and put onto a tray and spray with olive oil.  Place onto an oven tray and put into oven on 180c until partly cooked. When cooked take out of oven until the lentil mixture is ready.
Heat a large frypan with 2 tablespoons of olive oil on a medium to high heat.
Add the diced onion and cook for 2-3 mins or until softened stirring occasionally.
Add the mushrooms, carrot and 2 cloves garlic minced and cook for another 2-3 mins stirring occasionally.
Then add 1 ½ cups of lentils and stir to combine.
Add the 2 cups of vegetable stock and bring to boil then reduce to simmer, place a lid on and simmer for 8-10 mins.
Add the tin tomatoes and chopped basil to the lentil sauce and season with salt and pepper, simmer for another 4-5 mins or until the lentils are tender but still firm.
Place the lentil mixture into the cut the already cooked capsicums and place some Dairy Free Down Under Mozzarella on the top and place until the grill until the cheese has been melted being careful not to burn the capsicum.