Ingredients
Tomato Sauce
1 x medium onion
2 x cloves of garlic
1 x can whole peeled tomatoes
1 x Tomato paste
2tbsp spoons of mixed herbs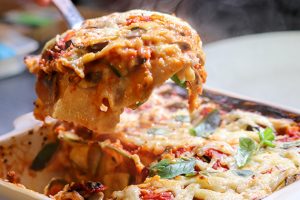 White Sauce
6 x tbsp Olive Oil
5 tbsp all-purpose flour (gluten-free optional)
4 cups soymilk (or other non-dairy milk)
2tsp prepared yellow mustard
Salt and Pepper (to taste)
¼ cup Vegan cheese – dairy-free down under
For the Lasagne
One pkt of Lasagne sheets (gluten-free optional)
Mushrooms
Zucchinis
Vegan cheese for topping – dairy-free down under
Instructions
Slice the mushrooms and zucchinis and put aside.
Prepare the Tomato sauce
Slice the onion and garlic and sauté in pan until brown
Pour in whole peeled tomatoes and tomato paste
Add mixed herbs and stir until thickened.
Prepare the white sauce
Add the oil to the pot and heat on a medium heat
As oil heating sift in the flour (Gluten-free optional)
Then add the soymilk all at once and stir continuously until it reaches the desired thickness
Add the Dairy-free Down Under Cheese and stir in until melted
When thickened take off heat and add the salt and pepper and mustard.
Time to assemble the Lasagne
Layer the Lasagne Sheets on the bottom of the Oven proof Lasagne pan
Then Pour over 1/3rd the white sauce
Layer the mushrooms the zucchini
Pour over a 1/3rd of the tomato sauce
THEN REPEAT TWO MORE TIMES
Place in oven at 190 covered for 1hour or until the Lasagne sheets are tender
Take out of the oven and place more Dairy-Free Down Under Cheese on top and place until the grill
Melt the Dairy-Free Down Under Cheese for 10mins or until melted and brown on top.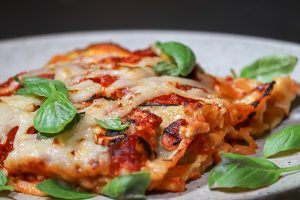 ENJOY