Get ready for a vegan crumble that's bursting with berrylicious flavours and creamy goodness! Our Vegan Berry Crumble with Blueberry Cream Cheese is a heavenly combination that will leave you craving more. Imagine a mix of juicy mixed berries, a crunchy oat crumble, and a velvety blueberry vegan cream cheese topping. Each bite is like a taste of summer!
This vegan crumble recipe is simple, yet the result is absolutely divine. Just imagine the sweet aroma of mixed berries simmering with apple sauce, releasing their natural juices. The topping, made with rice flour, rolled oats, and melted coconut oil, adds a delightful crunch and a hint of cinnamon for that extra touch of warmth.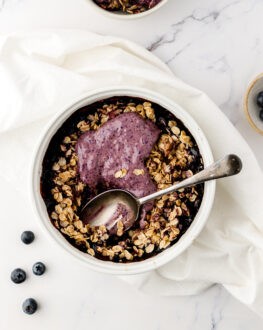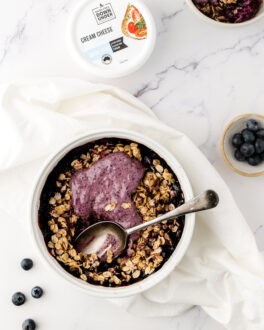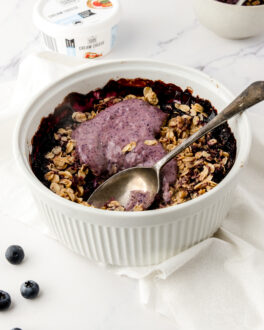 The ultimate berry crumble and best of all it's dairy-free
The star of the show is the blueberry cream cheese. Fresh blueberries blended with creamy DFDU dairy-free cream cheese and a touch of sugar to create a luscious, velvety texture that pairs perfectly with the berry crumble.
Serving this berry crumble with a dollop of plant-based yoghurt or a scoop of your favourite dairy-free ice cream takes it to the next level of deliciousness. The contrast of temperatures and textures will make your taste buds dance with joy!
Whether you're serving it for a cosy family dessert or impressing guests at a dinner party, our Berry Crumble with Blueberry Cream Cheese is guaranteed to be a hit. And with the recipe yielding four servings, there's plenty to go around!
So why wait? The combination of juicy mixed berries, irresistible oat crumble, and creamy blueberry cream cheese will have you clicking your way to a dessert that's as delightful to make as it is to savour.
Tried this recipe at home? Make sure to share your creation with us via our social media #dairyfreedownunder & @dairyfreedownunder_ 
Servings: 4
Ingredients:
2 cups Mixed Berries (can be frozen)
2 tbsp Apple Sauce
¼ cup Rice Flour
¾ cup Rolled Oats
¼ cup Coconut Oil, melted
½ tsp Cinnamon
Blueberry Cream Cheese: 
1 punnet Blueberries
½ cup DFDU Cream Cheese Style
2 tbsp Sugar
Serving Suggestion: Delicious served with plant yoghurt/ice cream.
Video
Method:
Preheat oven to 180 degrees.
Add mixed berries and apple sauce to a small saucepan and allow berries to soften and liquid to be released, in approximately 5 minutes.
Combine rice flour, rolled oats, coconut oil, and cinnamon in a bowl and set aside.
Pour softened berries into a baking dish and top with crumble, bake for 15 minutes or until the crumble has lightly browned.
Meanwhile, blitz blueberries, cream cheese, and sugar in a blender until combined. Scoop into a bowl and place in the fridge to stiffen whilst the crumble continues to cook.
Serve and top crumble with blueberry cream cheese and serving suggestions.