A chocolatey strawberry-y vegan brownie that will have you going back for more.
There is no denying that we all love a tasty chocolate brownie! Am I wrong? If you do, then this creamy, sweet, and vegan chocolate-filled brownie has your name written all over it! Baked and ready to indulge in under 40 minutes. 
This amazing dessert combines two classic flavours, chocolate and strawberries, to create a delicious and indulgent treat that is not only delicious but also quick and easy to make. Perfect for busy people who want to enjoy a little something sweet.
What makes these brownies truly unique is the rich and creamy chocolate topping that crowns the fudgy chocolatey brownie. Made from DFDU Cream Cheese Style, cacao powder, and maple syrup, this topping lifts the brownies to a whole new level of decadence.
So, if you're looking for a quick and delicious dessert that is both satisfying and guilt-free, look no further than Dairy-Free Down Under's Chocolatey Strawberry-y Vegan Brownies!
A Dairy-Free Brownie Recipe For Everyone
Brownies are truly a standout in the world of sweets and desserts. They are rich, chocolatey, and fudgy, with a crispy top layer that gives way to a soft and gooey centre. It's no wonder that so many people love them! Unfortunately, for those who follow a dairy-free, plant-based, or vegan lifestyle, brownies are often off-limits. The typical brownie recipe calls for eggs and dairy, making it difficult for those with dietary restrictions to enjoy this classic treat.
This can be incredibly disappointing for those who love sweets (guilty!) but have to avoid traditional ingredients. They often have to miss out on the indulgent, satisfying experience of biting into a warm and gooey chocolate brownie.
Fortunately for you, we can help! With the help of alternative ingredients, we've made it possible to create brownies that are just as delicious as the original, but dairy-free and plant-based. These brownies are made with olive oil, almond milk, and vegan chocolate chips, making them a tasty and accessible treat for everyone, regardless of their dietary needs.
So, if you're looking for a delicious and satisfying treat that everyone can enjoy, give Dairy-Free Down Under's Chocolatey Strawberry-y Vegan Brownies a try. You won't be disappointed!
Tried this recipe at home? Make sure to share your creation with us via our social media #dairyfreedownunder & @dairyfreedownunder_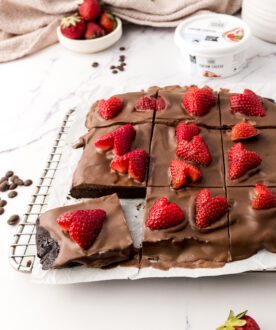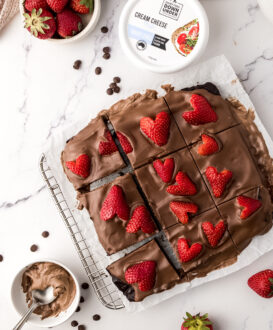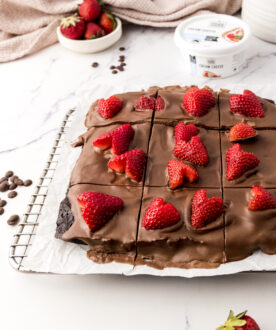 Servings: 9 Brownies
Ingredients:
1 cup Plain Flour
1/3 cup Cacao Powder
1/3 cup Granulated Sugar
1 tsp Baking Powder
¼ cup Extra Virgin Olive Oil
¾ cup Almond Milk
1 tsp Vanilla Extract
½ cup Dairy Free Chocolate Chips
1 cup Strawberries, halved
Chocolate Topping
160g DFDU Cream Cheese Style
1/3 cup Cacao Powder
2 tbsp Maple Syrup
Video
Method:
Preheat oven to 180 degrees.
Combine flour, cacao powder, sugar and baking powder in a bowl.
Add oil, milk, vanilla to bowl and stir to combine. Stir through chocolate chips.
Bake in oven for 20-25 minutes or until a skewer comes out clean. Set aside to cool.
Blitz cream cheese, cacao powder and maple syrup in a blender until combined.
Spread chocolate topping on top of cooled brownie. Gently press in the strawberry hearts.
Keep refrigerated.