Get ready to dive into a plate of pure cheesy, pesto-filled bliss! Our Cheesy Zucchini Pesto Pasta with Zucchini Ribbons is a culinary delight that will transport your taste buds to pasta paradise – and best of all, it's vegan, dairy-free, and plant-based. Imagine tender zucchini ribbons tossed in a luscious, creamy pesto sauce that's bursting with basil, cashew cream cheese, and pine nuts.
This zucchini pesto pasta recipe is a game-changer for pasta lovers. The zucchini ribbons add a refreshing twist to the classic dish, creating a lighter, healthier alternative without sacrificing any flavour. As you twirl your fork, the zucchini ribbons effortlessly mingle with the velvety pesto, creating a symphony of textures and tastes.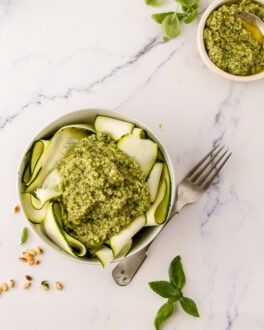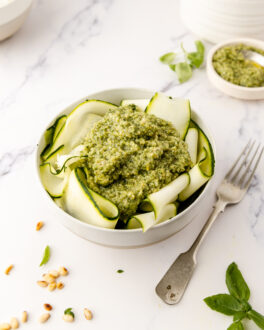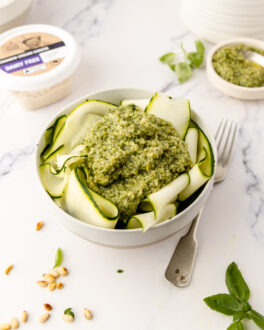 A creamy pesto pasta delight
The star of this creamy pesto pasta is undoubtedly the pesto sauce. Imagine the aroma of fresh basil leaves blending harmoniously with the creamy DFDU cashew cream cheese, giving it a luxurious, indulgent touch. The pine nuts add a delightful crunch, and the garlic cloves infuse the sauce with a subtle kick.
With just a few simple steps, you can have this tantalising dish on your table in no time. Blend all the pesto ingredients together until they form a vibrant green sauce that's bursting with flavour. Then, heat the zucchini ribbons in a pan until they're just warm and ready to mingle with the creamy pesto goodness. 
Picture yourself savouring each bite, the creamy pesto coating each zucchini ribbon, making every mouthful a delightful explosion of flavours. And the best part? This recipe yields two servings, so you can enjoy a cosy dinner for two or indulge in seconds all by yourself.
The combination of creamy, cheesy pesto and delicate zucchini ribbons will have you clicking your way to a pasta experience that's as fun to make as it is to devour. Don't miss out on this mouth-watering dish that promises to take your taste buds to the next level.
Tried this recipe at home? Make sure to share your creation with us via our social media #dairyfreedownunder & @dairyfreedownunder_
Servings: 2
Ingredients:
Pesto:
1 cup Basil Leaves
3 tbsp DFDU Cashew Cream Cheese
½ cup Pine Nuts
1/3 cup Olive Oil
2 Garlic Cloves
1 tsp Salt
Pinch Pepper
Video
Method:
Blitz all pesto ingredients in a blender until combined.
Add zucchini ribbons to a frying pan and heat until warm.
Top zucchini ribbons with pesto, swirl through your favourite pasta and and enjoy.