A falafel recipe that is easy to prepare for work or school, this mouth-watering meal is packed with flavour and texture. These delicious handmade falafels are paired with our creamy and tangy cashew cream cheese, making it an enjoyable choice for everyone. How delicious does that sound?!!  
With a simple preparation process, these falafels are ready to eat in no time. Serve them in a wrap with your favourite salad greens and a dollop of cashew cream cheese for a tasty and satisfying meal.
You'll Love This Easy Falafel Recipe!
This easy falafel recipe is dairy-free and vegan friendly making it a perfect addition to your weekly family recipes. Our Cashew Cream Cheese provides a delicious and creamy vegan alternative to traditional cream cheese that is made from cashews. It is a dairy-free, and gluten-free product, making it suitable for individuals with dietary restrictions or preferences. 
Want more recipes with our Cashew Cream Cheese? Try our Mexican Morning Bruschetta recipe. It is full of spice and flavours, a perfect meal to fuel your body and keep you feeling energised throughout the morning.
So, whether you are looking for a yummy new recipe or want to mix up your lunch selection, this easy falafel recipe with cashew cream cheese is for you! What are you waiting for?! 
Tried this recipe at home? Make sure to share your creation with us via our social media #dairyfreedownunder & @dairyfreedownunder_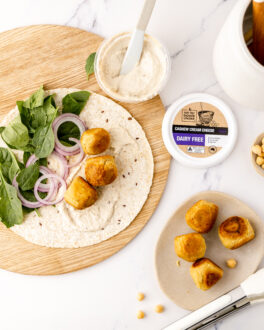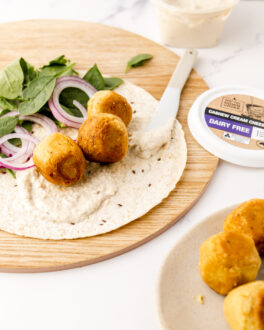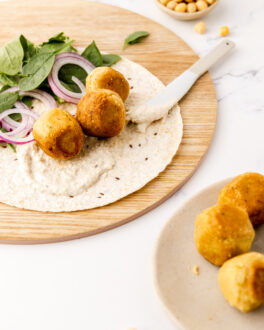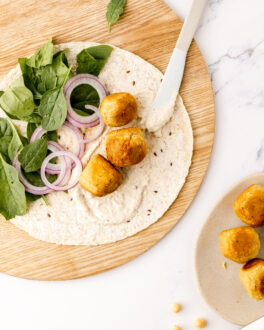 Servings: 8-10 Falafels 
Ingredients:
2 Spring Onions, sliced
1 Garlic Clove, minced
1 cup Cooked Chickpeas, rinsed
1/3 cup Flour 
¼ cup Cashew Cream Cheese
½ tsp Ground Coriander
Pinch Salt & Pepper
Olive Oil, drizzled
To Serve: 
Wraps
Salad Leaves
DFDU Cashew Cream Cheese
Video
Method:
Blitz spring onions, garlic, chickpeas, flour, cashew cream cheese, coriander, salt and pepper in a blender until combined.
Using your hands, form balls out of the mixture. Place in refrigerator for at least 15 minutes.
Drizzle olive oil in a frying pan and place falafels, using tongs continually rotate the balls until each side is golden brown.
Serve falafels in a wrap with salad and a dollop of cashew cream cheese.