Your morning breakfast just got tastier! This delicious Mexican Morning Breakfast Bruschetta recipe is a perfect meal to start the day and is 100% vegan friendly. The combination of spices, vegetables, and DFDU cashew cream cheese creates a delicious and satisfying meal that is easy to prepare and perfect for any morning. 
This vegan-friendly Mexican Morning Bruschetta is a delicious, flavoursome, and mouth-watering twist to traditional bruschetta. Whether you are cooking for yourself, or your family this recipe is great if you're low on time. You know the saying, "Breakfast is the most important meal of the day". So, start your day right with a Mexican twist.    
Our Mexican bruschetta recipe combines traditional Italian bruschetta with Mexican flavours. This recipe uses a fresh ½ Baguette, cut into rounds that is toasted until crispy. Topped with fresh Avocado to add a divine, creamy taste whilst the coriander and lime add a fresh and tangy flavour. And best of all, it's ready in 15-20 minutes! 
A flavoursome twist to traditional breakfast bruschetta!
Need more breakfast ideas or want to add more to your plate? Try our Crispy Vegan Mozzarella Hash Browns recipe. Made with our delicious DFDU Mozzarella Style Shreds and Aioli Style sauce, for a tasty breakfast alternative. They are worth the hype!! 
Whether you're looking for a healthy breakfast option or just a delicious way to start your day, this vegan-friendly breakfast bruschetta is a perfect choice. Try it out today and enjoy a nutritious and delicious start to your morning!
So, why not give our Mexican Morning Bruschetta a try tomorrow morning?! Make sure to share your creation with us on social media and let us know what you think! 
Tried this recipe at home? Make sure to share your creation with us via our social media #dairyfreedownunder & @dairyfreedownunder_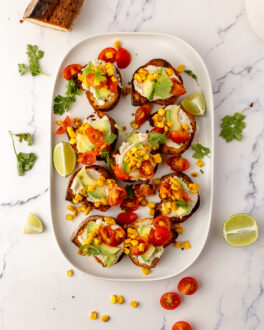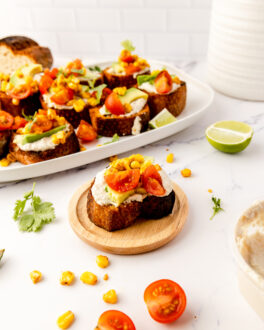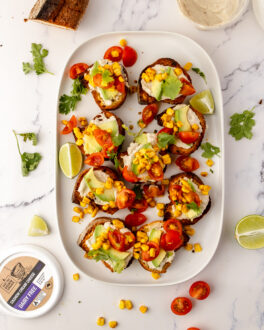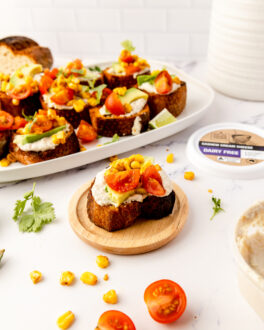 Servings: 2
Ingredients:
Olive Oil, drizzled
6 Cherry Tomatoes, quartered
¼ cup Corn Kernels
½ tsp Cumin
Pinch Cayenne Pepper
½ Baguette, cut into rounds
¼ cup DFDU Cashew Cream Cheese
½ Avocado, sliced
Fresh Coriander Leaves
Lime Wedges
Video
Method:
Drizzle oil in a small saucepan on medium heat. Add cherry tomatoes, corn, cumin, and cayenne.
Cook until heated through and coated with spices.
Meanwhile, drizzle oil in a separate large frying pan on low heat. Add baguettes and cook until lightly toasted on each side (alternatively, use a toaster or grill).
Spread baguette with cashew cream cheese.
Top with avocado, fresh coriander, and a squeeze of lime.