An easy crispy, golden & vegan-friendly hash brown recipe that you can do at home!
Have you ever wanted to cook fresh, crispy & vegan-friendly hashbrowns in your very own kitchen?! You and me both. With the combination of potatoes, DFDU Mozzarella Style Shreds & Aioli Style, this recipe will no doubt be a family favourite in no time.
These vegan-friendly hash browns are a delicious and healthy alternative to traditional hash browns. They are perfect for a quick and easy breakfast. The DFDU Mozzarella Style Shreds give the hash browns a rich and creamy flavour, while our Aioli Style, sauce provides a tangy and delicious dip. You can even add your favourite herbs and spices to the mixture for extra flavour.
Whether you are cooking for yourself or feeding a crowd, this crispy dairy-free mozzarella hash brown recipe is sure to impress. They are versatile, simple to make and can be paired with a variety of toppings, such as avocado, scrambled eggs (or tofu), salsa, or even a simple side salad. You can even make a double batch and keep them in the refrigerator for a quick and delicious snack throughout the week!
Delicious Dairy-Free Hash Browns for the Whole Family to Enjoy!
These dairy-free hash browns are nothing short of amazing! Not only are they a healthier alternative to traditional hash browns, but they are also completely plant-based, making them accessible to just about anyone, no matter their intolerances or allergies.
One of the best things about this recipe is how versatile it is. You can customise it to suit your tastes by adding your favourite herbs and spices to the mixture, or you can try topping it with our Vegan Chilli Con Carne or try it out with our Creamy Kale & Roast Chickpea Salad for a tasty and healthy breakfast or lunch. These dairy-free hash browns are infinitely customisable and there is some combination that will please everyone!
So, why wait? Get in the kitchen and start cooking up a storm with this delicious and easy crispy vegan mozzarella hash brown recipe. Share your creation with us on social media and let us know what you think!
Tried this recipe at home? Make sure to share your creation with us via our social media #dairyfreedownunder & @dairyfreedownunder_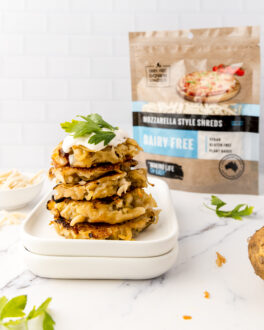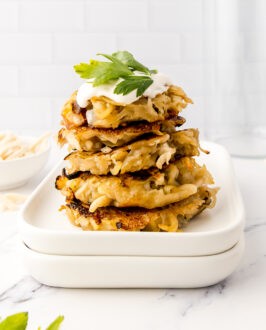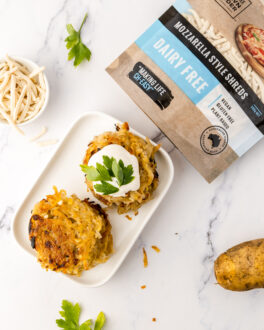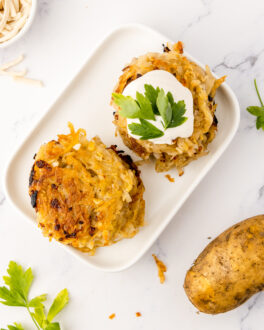 Servings: 4 (8-12 hashbrowns)
Ingredients:
3 Medium Potatoes, peeled
½ Onion, finely diced
1 cup DFDU Mozzarella Style Shreds
2 tbsp Flour
1 tsp Salt
¼ tsp Pepper
1 tbsp Extra Virgin Olive Oil
DFDU Aioli Style, to serve
Parsley, to serve
VIDEO
Method:
Grate potatoes and use a muslin cloth or tea towel to squeeze out excess juice.
Add potato, onion, mozzarella, flour, salt and pepper to a bowl and stir to combine.
Heat oil in a large frying pan on a medium heat.
Using a heaped tablespoon of batter dollop mixture on to pan (you will need to use the spoon to push the mixture to form a circle). Cook until golden on each side (you may need to add more oil if you add a new batch to the pan).
Serve topped with aioli and parsley.