Looking for a scrumptious appetiser that will wow your taste buds? Imagine biting into a crispy, cauliflower bite that reveals a gooey centre filled with DFDU Mozzarella Style Shreds and tender cauliflower. 
These cauliflower bites are not your ordinary snack—they're a burst of flavour and excitement in every bite. The combination of cauliflower, spring onions, and a hint of nutmeg creates a tantalising medley of tastes that will leave you craving more. The DFDU Mozzarella Style Shreds add a creamy, cheesy goodness that takes these bites to a whole new level of deliciousness.
As the aroma of these bites fills your kitchen, you'll feel the anticipation building. The sight of the golden crust and the melted cheese on top will have your mouth watering in anticipation. And when you finally take that first bite, you'll be rewarded with a satisfying crunch followed by a burst of cheesy goodness.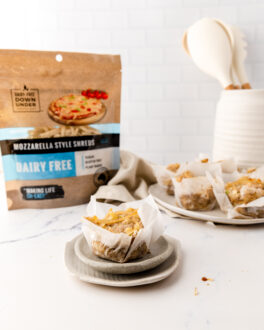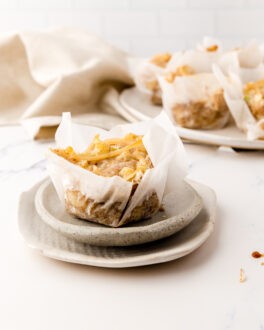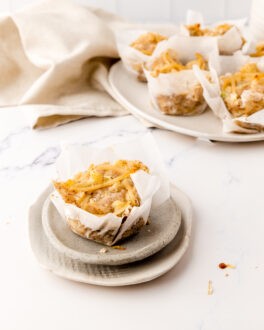 Crispy Cauliflower Bites for Every Occasion
Whether you're hosting a party, entertaining guests, or simply looking for a tasty snack to enjoy at home, our Crispy Cauliflower Bites are guaranteed to be a crowd-pleaser. With eight servings, there's plenty to share or indulge in yourself.
Let your taste buds embark on a journey of flavour and excitement as you savour each mouth-watering bite. Experience a snack that will leave you craving more! 
Tried this recipe at home? Make sure to share your creation with us via our social media #dairyfreedownunder & @dairyfreedownunder_ 
Serving: 8
Ingredients: 
1 tbsp Flaxseed Meal (or finely ground flaxseeds)
2 ½ tbsp Water
½ Cauliflower, cut into florets
2 Spring Onions, thinly sliced
½ cup Self Raising Flour
½ cup DFDU Mozzarella Style Shreds
1/3 cup Plant Milk
1 tsp Baking Powder
¼ tsp Nutmeg
Video
Method:
Preheat oven to 180 degrees and prepare a muffin tin with baking paper cut into squares.
Combine flaxseed meal and water in a small bowl and set aside to thicken for at least 10 minutes.
Steam cauliflower in a saucepan until just softened.
Combine cauliflower, flaxseed egg, spring onion, self-raising flour, mozzarella, milk, baking
powder and nutmeg in a bowl.
Divide mixture between the muffin tin and sprinkle each bite with some additional cheese.
Bake for 25-30 minutes or until cheese has turned golden on top.