Our Cheesy Popcorn is the ultimate snack for movie night that will take your taste buds on a flavour-packed journey. Imagine perfectly popped popcorn, coated in a savoury cheddar seasoning that will leave you craving more.
Each kernel is a burst of cheesy goodness, with a fine crumb of cheddar shreds adding a delightful layer of flavour. The combination of coconut oil and cheddar creates a rich, indulgent coating that will have you reaching for handfuls of this addictive treat.
But the excitement doesn't stop there. As you take your first bite, you'll be transported to a world of crunch and satisfaction. The popcorn pops with a satisfying sound, and as you savour the cheesy coating, you'll be hooked by the irresistible combination of textures.
Whether you're enjoying a cosy movie night at home or hosting a gathering with friends, our Cheesy Popcorn recipe is the perfect companion. It's a snack that's meant to be shared and savoured, bringing joy and excitement to any occasion.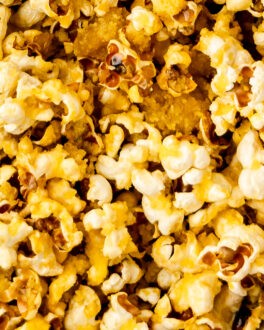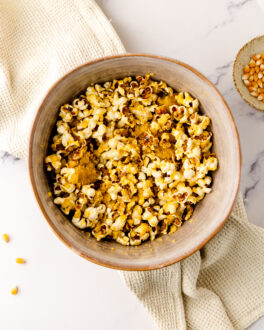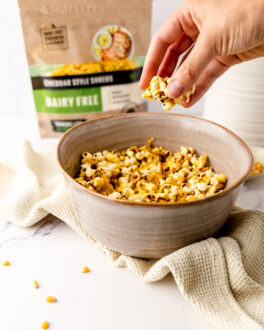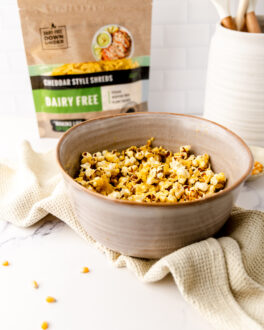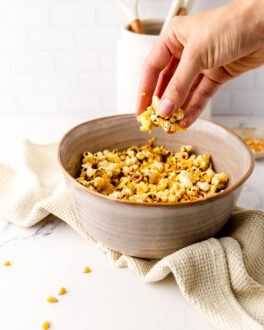 This recipe is incredibly easy to make. With just a handful of ingredients and a few simple steps, you'll have a bowl of cheesy perfection in no time. From blitzing the cheddar shreds to popping the kernels and coating them in savoury seasoning, the process is quick and effortless.
So why wait? The combination of DFDU cheddar, coconut oil, and a dash of salt will have you clicking your way to a snack that's both fun and exciting. Don't miss out on this delectable treat that promises to satisfy your cravings and elevate your popcorn game to a whole new level!
Tried this cheesy popcorn recipe at home? Make sure to share your creation with us via our social media #dairyfreedownunder & @dairyfreedownunder_
Servings: 2
Ingredients:
½ cup Cheddar Style Shreds
3 tbsp Coconut Oil
1/3 cup Popcorn Kernels
1 tsp Salt
Extra ¼ cup Cheddar Style Shreds, melted.
Video
Method:
Blitz cheddar shreds in a blender until it resembles a fine crumb.
Heat the coconut oil in a large saucepan on low to medium heat.
Place two popcorn kernels in the saucepan and cover.
Once popped, remove the two kernels and add the remaining kernels. Cover with lid and this time leave the lid slightly ajar. Allow all popcorn kernels to pop and take off the heat.
Add cheddar and salt to a saucepan and stir through. Pour into a bowl and enjoy!
Optional to add melted cheese; simply place extra cheese in a small saucepan on a low heat with a dash of oil, allow to melt, and stir continuously until melted. Add cheese to popcorn (discard any separated oil that remains in the pot).