These dairy-free chocolate muffins with chocolate avocado icing are a delicious treat that you won't believe is dairy-free! Made with vegan ingredients, these muffins are incredibly moist and chocolatey, with a rich and decadent flavour that's perfect for any chocolate lover.
The chocolate avocado icing is the perfect complement to the muffins, adding a creamy and slightly tangy flavour that pairs perfectly with the rich chocolate. Made with ripe avocados and cacao powder, it's a healthier alternative to traditional icing and adds a unique twist to this classic recipe.
Whether you're vegan, lactose intolerant, or just looking for a healthier dessert option, these vegan chocolate muffins with chocolate avocado icing are sure to satisfy your sweet tooth. Try them out today and experience the deliciousness for yourself!
These Vegan Chocolate Muffins Will Have you Baking for More.
Unfortunately, those that have a dairy intolerance or follow a plant-based diet are limited in what they can eat and indulge in, especially classic chocolate desserts as they usually include dairy products. There is a stigma that these dietary limits have to include boring and bland meals in order to stay within the green zone. We are here to tell you that a plant-based diet does not have to be boring! DFDU has a great range of products including a Cream Cheese Style that is a delicious alternative to classic cream cheese. 
Looking for other recipes that use our Cream Cheese Style? Along with this chocolate muffin recipe, our vegan strawberry & Chocolate Cream Cheese Brownies are such a chocolatey alternative and sure to satisfy your cravings. 
So, what are you waiting for? It is time to start baking these fluffy Chocolate Muffins with Choc Avo icing. There is a reason why this recipe is so popular! We can't wait for you to try them. 
Tried this recipe at home? Make sure to share your creation with us via our social media #dairyfreedownunder & @dairyfreedownunder_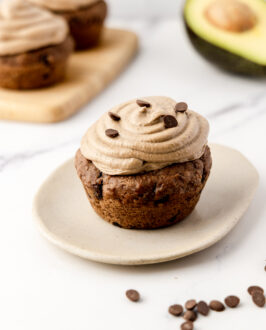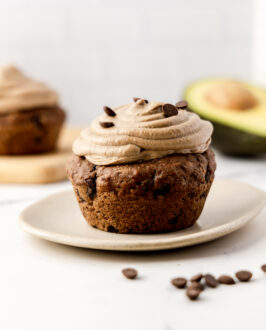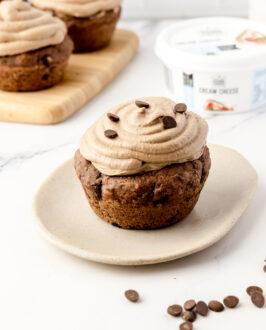 Servings: 8-10
Ingredients:
1 tbsp Chia Seeds
2 ½ tbsp Water
2 cups Self Raising Flour
1/3 cup Granulated Sugar
2 tbsp Cacao Powder
½ tsp Baking Powder
¼ tsp Bicarb Soda
Pinch Salt
1 cup Soy Milk
1/3 cup Olive Oil
½ cup Dairy Free Chocolate Chips
Choc Avo Icing
½ Avocado
½ cup DFDU Cream Cheese Style
1 tbsp Cacao Powder
2 tbsp Agave Nectar
Video
Method:
Preheat oven to 180 degrees Celsius.
Combine chia seeds and water in a bowl and set aside to thicken as a chia egg.
In a separate bowl, combine flour, sugar, cacao powder, baking powder, bicarb, and salt. Add soy milk, oil, and chia egg, stir to combine. Stir though chocolate chips.
Divide mixture into a prepared muffin tin. Bake for 20 minutes or until a skewer comes out clean.
Set aside to cool.
Meanwhile, blitz avocado, cream cheese, cacao powder and agave in a blender until combined.
Place in a piping bag (if piping or a bowl if spreading with a knife). Refrigerate until the muffins have cooled and icing has thickened. Frost muffins with icing.