If you don't like the thought of salads, let me tell you, you are not alone. But salads don't have to be bland and tasteless, they can be full of delicious flavours and colours! This healthy mango and macadamia salad is absolutely delicious and worth a try! Here's a rundown of a few of the star ingredients:
Mango: Mangoes are rich in antioxidants, fibre, and various vitamins and minerals, including vitamin C, vitamin A, and potassium. They have also been shown to boost digestion, improve heart health, and support healthy skin.
Macadamias: Macadamia nuts are a great source of healthy monounsaturated fats, protein, and fibre. They are also high in antioxidants, which help to protect the body from oxidative damage. Macadamias have been shown to help lower cholesterol levels, improve heart health, and reduce the risk of certain chronic diseases.
Avocado: Avocados are known for their healthy fat content, fibre, and high vitamin and mineral content. They are a good source of monounsaturated fats, which help to support heart health, and are high in potassium, which helps to regulate blood pressure. Avocados also contain antioxidants, which help to protect the body from oxidative damage.
Sour cream: While traditional sour cream can be high in fat and calories, DFDU's sour cream alternative is made with dairy-free ingredients and has a lighter nutritional profile.
Drizzled with your very own, homemade avocado cream dressing made with our DFDU Sour Cream, give this mango and macadamia salad recipe a try for your next lunch or dinner, or steal the show at the next barbecue. Who knew healthy could taste so good?
A Healthy and Delicious Mango, Avocado, and Macadamia Salad
If you're someone who's not a big fan of salads, don't worry, you're not alone. But with this mango & macadamia salad, you'll be pleasantly surprised. We believe that salads don't have to be boring and bland, they can be a vibrant, nutritious, and flavour-packed option. Whatever the occasion, this mango & macadamia salad is sure to be a hit!
The stars of this salad are the juicy mango and crunchy macadamia nuts, mixed with crisp salad leaves, ribbons of cucumber, and a mix of cannellini beans, sunflower seeds, and fresh parsley. To add an extra touch of creamy and tangy flavour, this salad is drizzled with a homemade avocado cream dressing made with our very own Sour Cream.
Tried this recipe at home? Make sure to share your creation with us via our social media #dairyfreedownunder & @dairyfreedownunder_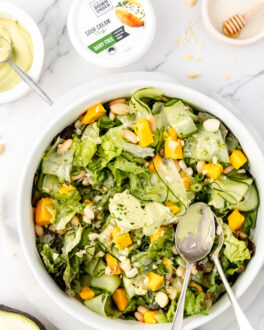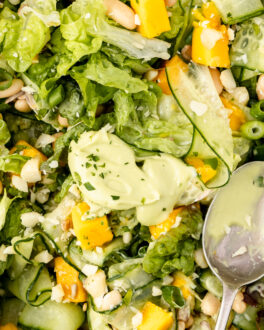 MANGO & MACADAMIA SALAD WITH
SOUR AVO CREAM
Servings: 2
Ingredients:
2 handfuls Salad Leaves
1 Mango, diced
1 Cucumber, peeled into ribbons
1 Spring Onion, thinly sliced
½ cup Cannellini Beans
1/3 cup Macadamias, roughly chopped
2 tbsp Sunflower Seeds
2 tbsp Parsley, roughly chopped
Dressing
2 tbsp Extra Virgin Olive Oil
½ Avocado, diced
1 tbsp DFDU Sour Cream Style
1 tsp Rice Malt Syrup, optional sweetness
Video
Method:
Blitz oil, avocado, sour cream, and honey in a blender until smooth (alternatively mash ingredients
until smooth). Set aside.
Add all salad ingredients in a large bowl and drizzle with sour avo dressing and enjoy!