If you're a fan of avocados, then you're in for a real treat! Our Stuffed Avocados are the ultimate indulgence, packed with delicious and nutritious ingredients that will leave you feeling satisfied and energized.
Picture this: ripe, creamy avocados filled with a mouth-watering mixture of zesty tomatoes and flavours of DFDU Aioli Style. Every bite is like a little burst of flavour, with a satisfying combination of textures that's sure to leave you feeling full and satisfied.
And the best part? Our Stuffed Avocados are incredibly easy to make, so you can whip up a batch in no time and impress your friends and family with your culinary skills.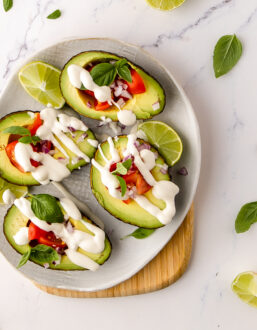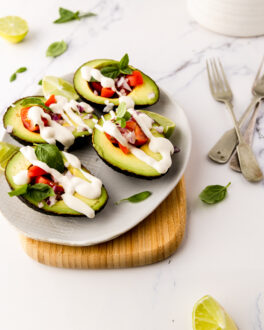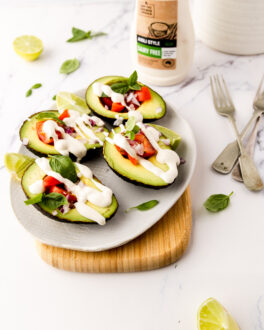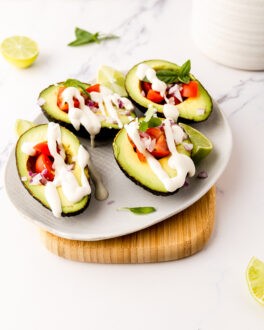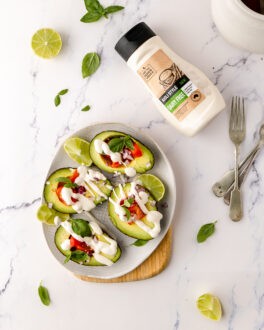 BURSTING WITH FLAVOUR AND DELICIOUSNESS
With its vibrant colours and delicious flavours, our Stuffed Avocados are a feast for the eyes as well as the taste buds. Whether you're a vegetarian, a health-conscious foodie, or simply looking for a new twist on your favourite avocado recipe, our Stuffed Avocados are the perfect choice. And with their vibrant colours and beautiful presentation, they're sure to impress your friends and family at your next dinner party or social gathering.
So why wait? You won't be disappointed, and your taste buds will thank you for it! 
Tried this recipe at home? Make sure to share your creation with us via our social media #dairyfreedownunder & @dairyfreedownunder_
Serving: 2
Ingredients:
2 small Avocado
8 Cherry Tomatoes, quartered
¼ Red Onion, diced
Fresh Basil Leaves
1 Lime, cut into wedges
Salt & Pepper, to taste
DFDU Aioli Style
Video
Method:
Cut avocadoes in half and top with cherry tomatoes, red onion and fresh basil leaves.
Squeeze with lime juice and season with salt and pepper.
Squeeze aioli over the top and serve.