Introducing Dairy-Free Down Under's Vegan "Cheddar" Savoury Muffins, the perfect combination of taste and convenience! Say goodbye to bland and boring lunchtime snacks and hello to this mouth-watering, plant-based alternative that will be sure to satisfy your cravings.
Our vegan savoury muffins are a simple lunch snack that is filled with flavour and deliciousness! We tend to stick to the same lunchtime snacks because they are convenient & familiar, but we can show you that there are easy-to-make, vegan-friendly savoury muffins out there that you can try that are full of dairy-free cheesy goodness.
We understand that finding vegan-friendly recipes that are full of flavour and actually taste good can be a bit of a mission. Dairy-Free Down Under's Vegan "Cheddar" Savoury Muffins are easy to make and lunch box friendly. Trust me, this recipe will become a lunchbox staple!
Dairy-Free Savoury Muffins That Anyone Can Enjoy
This recipe is perfect for vegans and those with dairy allergies, but don't let that fool you into thinking they are lacking in any way. These muffins are filled with a burst of cheesy goodness, made possible by using a combination of soy milk and our DFDU Cheddar Style Shreds.
Who doesn't love savoury muffins? Well, if you're looking for a tasty alternative to the traditional versions, the use of plant-based ingredients in ours makes them an excellent option for those who are plant-based or have dairy allergies, meaning no one has to miss out! Additionally, the use of wholesome ingredients like soy milk, flaxseeds, and whole grains, make these muffins a healthier option compared to traditional snacks, without sacrificing taste.
Not only are these muffins easy to make, but they're also perfect for on-the-go, making them a lunchbox staple. Simply mix all the ingredients together, pour the batter into muffin tins, and bake for 20-25 minutes. In no time, you'll have a delicious and healthy snack that is perfect for a quick lunch break.
To make these muffins extra special, try adding some hemp seeds or sprinkle some extra DFDU Cheddar Style Shreds on top. These muffins serve 8-10 people, making them perfect for families, large gatherings, or as a snack to share with friends.
Tried this recipe at home? Make sure to share your creation with us via our social media #dairyfreedownunder & @dairyfreedownunder_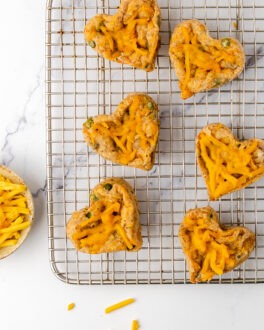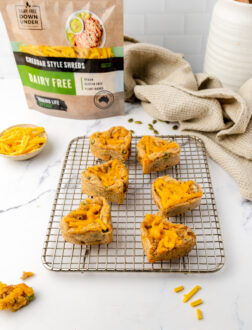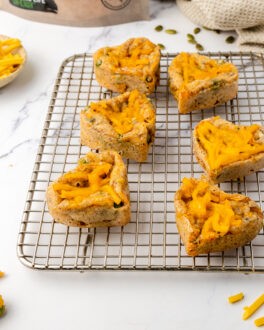 Servings: 8-10
Ingredients:
1 tbsp Flaxseed Meal (or finely ground flaxseeds)
2 ½ tbsp Water
1 cup Self Raising Flour
1 tsp Baking Powder
½ tsp Oregano
½ tsp Dried Basil
1 tsp Salt
½ tsp Garlic Powder
Pinch Pepper
1 cup Soy Milk
1 Carrot, grated
½ cup Peas
½ cup DFDU Cheddar Style Shreds, grated
1 tbsp Pumpkin Seeds
1 tbsp Hemp Seeds, optional
Extra DFDU Cheddar Style Shreds, sprinkled
Video
Method:
Preheat oven to 180 degrees and prepare a muffin tin (I used heart moulds for Valentine's day!).
Combine flaxseed meal and water in a small bowl and set aside to thicken for at least 10 minutes.
Combine flour, baking powder, oregano, basil, salt, garlic powder and pepper in a large bowl.
Add milk, carrot, peas, cheese and seeds to dry mixture and stir to combine.
Divide mixture between the muffin tin and sprinkle each muffin with some additional cheese.
Bake for 15-20 minutes or until a skewer comes out clean.