Are you wanting to incorporate fruit into your breakfast or simply change up your breakfast choices? Well, we have a recipe for you! Introducing our Vegan Passionfruit Yoghurt recipe, made with our delicious DFDU Sour Cream Style! This vegan yoghurt recipe is made with only 5 simple ingredients making it easy to meal prep if you are on the go or need a quick snack from the fridge.  
The health benefits of passionfruit
Passionfruits have loads of health benefits! Not only are they flavoursome but they are also filled with nutrients and are a good source of vitamins A and C, making them a great addition to a healthy and balanced diet. 
A fruity cashew yoghurt that will have you loving your breakfast routine
If you aren't a big fan of breakfast or are looking for an alternative snack during the day, this cashew yoghurt recipe is perfect for just that! It serves 2 cups which makes it an easy grab-and-go meal/snack. 
Tried this recipe at home? Make sure to share your creation with us via our social media #dairyfreedownunder & @dairyfreedownunder_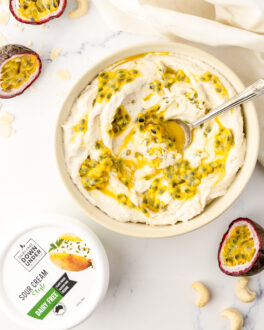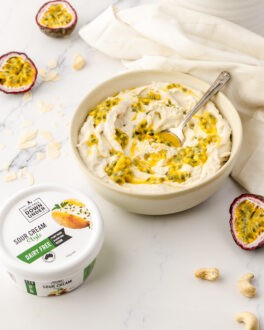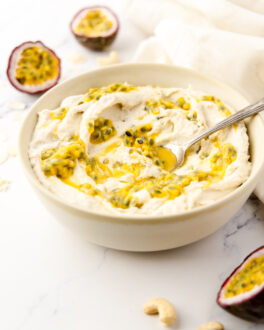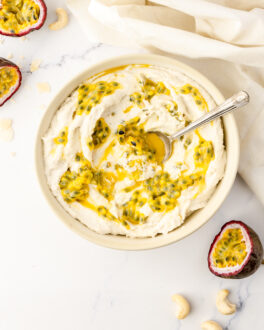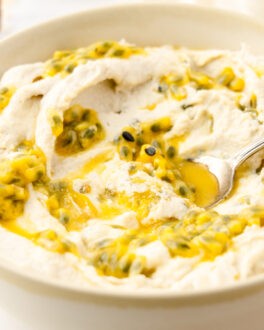 Servings: 2 Cups
Ingredients:
1 cup Cashews
½ cup Blanched Almonds
½ cup DFDU Sour Cream Style
1 tbsp Water
4 Passionfruit
Video
Method:
Soak cashews and almonds overnight in water (at least 6 hours).
Drain and blitz in a blender until the consistency thickens. Add sour cream and water to the blender and gently pulse until combined.
Stir through passionfruit.
Keep stored in the fridge for up to a week.