Introducing Dairy-Free Down Under's Vegan-friendly Pasta Bake with dairy-free cheddar. A delicious alternative that will have you making this meal weekly! 
This dairy-free cheddar pasta bake is a comforting and flavourful meal that is perfect for a family dinner or meal prep for the week. This dish is the perfect combination of creamy, cheesy, and comforting, without any dairy. It's a great option for those with lactose intolerance or who are following a vegan or dairy-free diet. 
A Delicious Dairy-Free/Gluten-Free Pasta Bake Perfect for your Next Family Dinner!
Made with fresh cherry tomatoes, spinach,  and of course, DFDU's Cheddar Style Shreds, this  dairy-free, vegan, and gluten-free pasta bake hits all your taste buds! This quick and easy recipe is ready to serve on the table in less than 40 minutes. 
If you are a pasta lover but don't want to miss out on your favourite cheese topping, you are certainly not alone. We've got you! Dairy-Free Down Under's Cheddar Style Shreds gives the convenience of pre-shredded cheddar that is full of cheddary flavour and goodness.  
Tried this recipe at home? Make sure to share your creation with us via our social media #dairyfreedownunder & @dairyfreedownunder_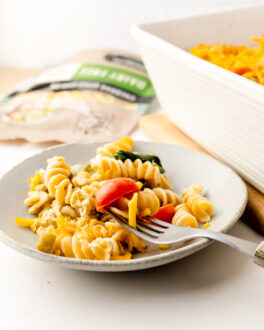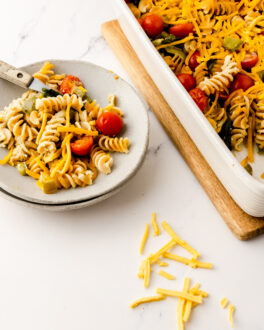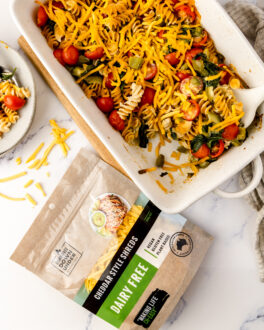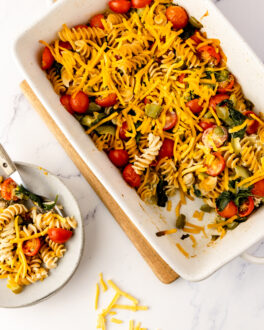 Servings: 4
Ingredients:
250g Spiral Pasta
Olive Oil, drizzled
½ Onion, diced
1 Garlic Clove, minced
250g Cherry Tomatoes, halved
½ Green Capsicum, diced
2 cups Spinach
1 cup DFDU Cheddar Style Shreds
Sauce
1 cup Coconut Cream
½ cup Water
1 cup Cashews
1 tsp Salt
¼ cup Parsley
¼ tsp Chili Powder
Video
Method:
Cook pasta as per packet instructions and set aside.
Preheat the oven to 180 degrees Celsius.
Heat oil in a frying pan, add onion and garlic, and cook until softened. Add cherry tomatoes, capsicum and spinach. Cook until spinach has just started to wilt. Set aside.
Add pasta and vegetables to a baking dish.
Blend all sauce ingredients until combined.
Pour sauce over dish and sprinkle with cheddar shreds.
Bake for 30 minutes or until cheese has turned golden.