If you don't like the thought of trying cauliflower, you are not alone. Trust me! But what if we told you that cauliflower can be delicious? Hear us out. Our whole baked cauliflower with dairy-free mozzarella is infused with cheesy goodness and drizzled with garlic and onion powder. 
Enjoy a versatile vegetable and create something that the family will all enjoy. Delicious, cheesy, and full of flavour. Who wouldn't want to try it? Cauliflower is a nutritious vegetable that is good for you for several reasons. Here are some of the benefits of cauliflower:
High in fibre: Cauliflower is a good source of dietary fibre, which can help improve digestion, & reduce inflammation.
Rich in vitamins and minerals: Cauliflower is loaded with vitamins and minerals, including vitamin C, vitamin K, folate, potassium, and magnesium, all of which are essential for overall health and well-being.
A Delicious and Nutritious Baked Whole Cauliflower Recipe
If you aren't a big fan of vegetables but are looking for a recipe that can include the goodness they provide, this recipe for baked whole cauliflower with vegan mozzarella is perfect. We understand that the thought of including vegetables in your meal can be off-putting, but it doesn't have to be! 
The baked cauliflower vegetable adds an enticing crunch whilst the DFDU Mozzarella Style adds the cheesy deliciousness you love. Served with vibrant pomegranate and Pine Nuts. These add just that something extra to the dish with a sweet and crunchy texture.  
The cauliflower is first coated in a mixture of olive oil, garlic and onion powder then baked in the oven until tender and golden brown on the outside. The mozzarella-style cheese is then added on top of the cauliflower, melting into a gooey, cheesy topping. The result is a satisfying and comforting meal that is perfect for a cosy night in or as a side dish for a family dinner. 
Tried this recipe at home? Make sure to share your creation with us via our social media #dairyfreedownunder & @dairyfreedownunder_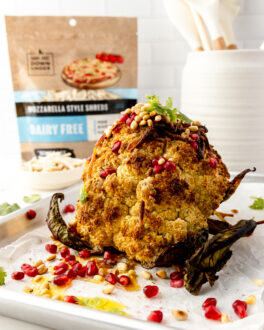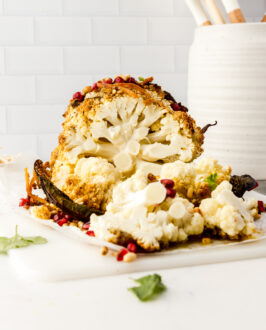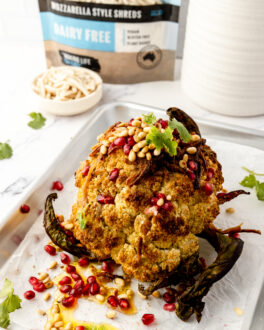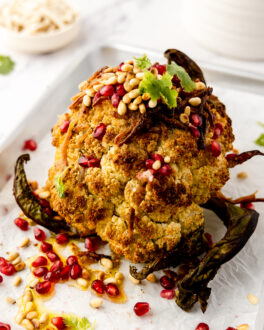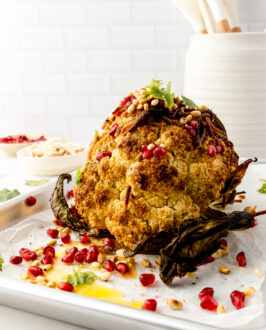 Serving: 6 as a side dish  
Ingredients:
1 Whole Cauliflower
½ cup DFDU Mozzarella Style Shreds
Drizzle of Olive Oil
2 tsp Garlic Powder
1 tsp Onion Powder
1 tsp Salt
¼ tsp Pepper
To serve
1/3 cup Fresh Herbs, roughly chopped
¼ cup Pomegranate
¼ cup Pine Nuts, toasted
Video
Method:
Preheat oven to 200 degrees Celsius conventional.
Place cauliflower on a baking tray. Drizzle with oil and sprinkle with mozzarella (you can stuff some of the shreds into the cauliflower creases). Sprinkle with garlic powder, onion powder, salt and pepper.
Roast for 50-60 minutes or until tender (use a skewer to determine this).
Remove from oven and top with remaining ingredients, as well as a light drizzle of olive oil.