Looking for a delicious and easy-to-make dish that will satisfy your hunger and your taste buds? Look no further than our Cheesy Baked Beans recipe! Our mouth-watering dish is the perfect blend of savoury baked beans, gooey melted dairy-free cheese and herbs that will have you coming back for more.
Our recipe is simple and straightforward, making it perfect for busy weeknights or lazy weekends. All you need is a few simple ingredients and a little bit of time, and you'll have a delicious meal that your family and friends will love. 
One of the things that we love about this recipe is how versatile it is. You can serve it as a side dish, or you can enjoy it as its own meal. The cheesy goodness of the baked beans pairs perfectly with a variety of other flavours, making it a great addition to any meal.
One of the key components of our cheesy baked beans recipe is the use of DFDU Cheddar Style Slices.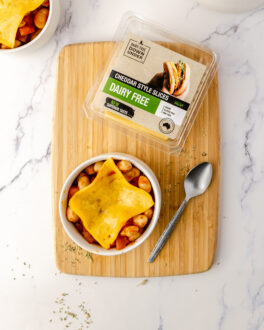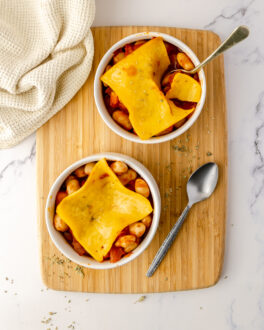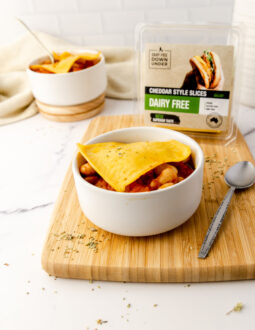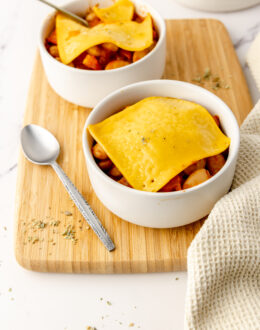 PERFECT AS A HIGH-PROTEIN VEGAN BREAKFAST OR COMFORT MEAL
The high-protein vegan breakfast is a deliciously ch-easy dish that's perfect for any occasion. Whether you're hosting a family dinner, or just looking for a comforting meal on a chilly evening, our cheesy baked beans recipe is sure to hit the spot.
We're committed to providing you with the best possible recipes and cooking tips. We believe that good food doesn't have to be complicated and that with a few simple ingredients and a little bit of know-how, anyone can create delicious and satisfying meals. Make sure to check out our other cheesy recipes including whole baked cauliflower with dairy-free mozzarella.  
So why not give our cheesy baked beans recipe a try? Head over to our recipe page today and discover a world of delicious and easy-to-make recipes that are sure to become your new favourites. Whether you're a seasoned home cook or just starting out in the kitchen, we have something for everyone.
Tried this recipe at home? Make sure to share your creation with us via our social media #dairyfreedownunder & @dairyfreedownunder_ 
Servings: 2
Ingredients:
Olive Oil, drizzled
½ Onion, diced
1 Garlic Clove, minced
1 x 400g can Butter Beans, rinsed
1 Tomato, diced
2 tbsp Tomato Paste
1 tbsp Water
1 tbsp Basil, chopped
¼ tsp Salt
Pinch Pepper, or to taste
2 Cheddar Style Slices
Video
Method:
Preheat oven to 200 degrees.
Heat oil in a small frying pan on a medium heat.
Cook onion and garlic until softened. Add butter beans, tomato, tomato paste, water, basil, salt and pepper. Cook until butter beans have heated through.
Divide the mixture between two ramekins (or small oven-proof bowls).
Place a slice of cheddar cheese on top of each ramekin.
Bake until cheese has softened, approximately 10-15 minutes