Celebrate Easter in style with our delicious chocolate vegan donut recipe with a creamy chocolate frosting! These luxurious donuts are the ultimate way to satisfy your sweet tooth while also being suitable for a dairy-free and vegan diet.
Crafted with rich and moist vegan-friendly ingredients, our chocolate donut recipe has a light and fluffy texture that will tantalise your taste buds. The chocolate flavour is intense and satisfying, making it the perfect choice for any chocolate lover. But wait, there's more! We've topped these heavenly donuts with a luscious and indulgent chocolate frosting that elevates the flavour to the next level featuring our DFDU Cream Cheese Style. The frosting is thick, smooth, and velvety, melting in your mouth with every bite.
Whether you enjoy them for a special Easter breakfast, as a dessert after a holiday meal, or simply as an indulgent snack, our vegan chocolate donuts with creamy chocolate frosting will surely be a hit with everyone. So go ahead, spoil yourself and your loved ones with a little something sweet this Easter – you won't be disappointed!
A delicious dairy-free donut recipe that will have you baking more.
You don't have to miss out on your favourite chocolatey treats this Easter, we have dessert recipes that are vegan-friendly and dairy-free. Make sure to check our recipes for dairy-free chocolate muffins with choc Avo icing and vegan strawberry & chocolate cream cheese brownies. Yummy!!! 
So, what are you waiting for?! Get to baking our dairy-free donut recipe. Make sure to tag us in all your creations, we would love to see them. 
Tried this vegan donut recipe at home? Make sure to share your creation with us via our social media #dairyfreedownunder & @dairyfreedownunder_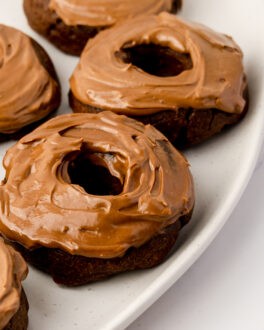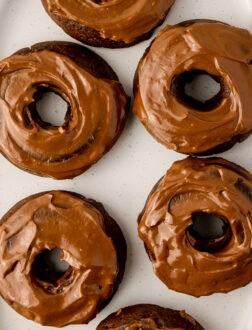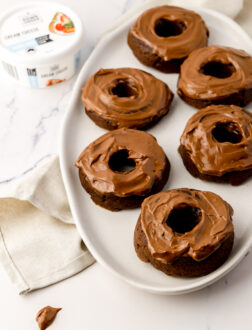 Servings: 6
Ingredients:
1½ cups Plain Flour
¾ cup Granulated Sugar
¼ cup Cacao Powder
1 tsp Baking Powder
Pinch Salt
¾ cup Coconut Milk
½ cup Olive Oil
Creamy Chocolate Frosting
160g DFDU Cream Cheese Style
1/3 cup Dairy Free Chocolate Chips, melted
2 tbsp Maple Syrup
Video
Method:
Preheat oven to 180 degrees and prepare a doughnut tin.
Combine flour, sugar, cacao powder, baking powder and salt in a bowl.
Pour in milk and olive oil. Stir to combine mixture.
Pour mixture into the tin and bake for 18-20 minutes or until a skewer comes out clean. Set aside to cool.
Meanwhile, blitz cream cheese, melted chocolate chips and maple syrup in a blender until combined.
Spread the frosting on the cooled donuts.