If you're looking for a sweet and creamy dessert that's perfect for any occasion, our strawberry cream cheese mousse is the perfect option. 
Get ready to indulge in a dessert that's sweet, creamy, and bursting with fresh, juicy strawberries! Our Strawberry Cream Cheese Mousse is the ultimate treat for anyone with a sweet tooth, and it's guaranteed to satisfy your cravings for something rich and delicious.
Imagine a light and airy mousse that's perfectly infused with the sweet and tangy flavours of fresh strawberries. Every spoonful is like a little taste of heaven, with a silky-smooth texture that melts in your mouth and leaves you craving more.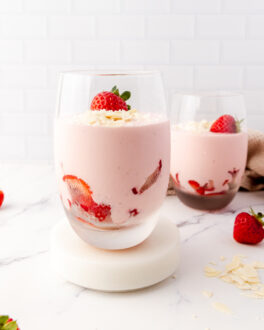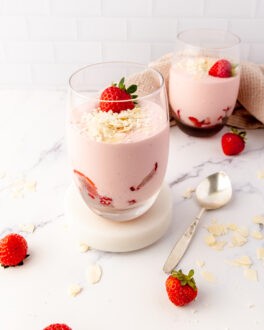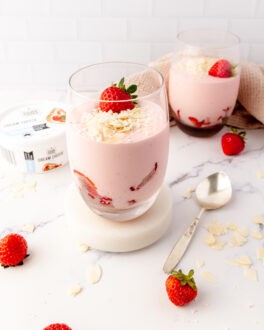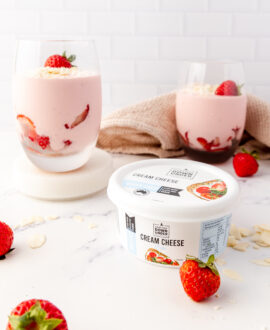 THIS RECIPE IS SO FRESH – IT IS CRAZY GOOD!
And the best part? Our Strawberry Cream Cheese Mousse is incredibly easy to make, so you can whip up a batch in no time and impress your friends and family with your culinary skills. Whether you're hosting a dinner party or just looking for a special treat to enjoy on a lazy Sunday afternoon, this dessert is the perfect choice.
With its vibrant pink colour and luxurious texture, our Strawberry Cream Cheese Mousse is a feast for the eyes as well as the taste buds. It's a dessert that's sure to impress, and you'll love how easy it is to customize with your own favourite toppings and garnishes.
It doesn't just stop there! We have so many delicious and creamy recipes that feature our Cream Cheese Style. Try out our Chocolate Vegan Donut Recipe with Creamy Chocolate Frosting or Dairy-Free Chocolate Muffin With Choc Avo Icing. We told you; we have you covered! 
So why wait? You won't be disappointed, and your taste buds will thank you for it! Our Strawberry Cream Cheese Mousse is a dessert that's easy to make and impossible to resist. So don't wait any longer – give it a try today and experience the sweet, creamy goodness for yourself. 
Tried this recipe at home? Make sure to share your creation with us via our social media #dairyfreedownunder & @dairyfreedownunder_
Servings: 2
Ingredients:
2 cups Strawberries
½ cup DFDU Cream Cheese Style
2 tbsp Rice Malt Syrup
1 tbsp Shredded Coconut
1 tbsp Coconut Flakes
Video
Method:
Blitz 1½ cups of strawberries, cream cheese and rice malt in a blender until the consistency thickens (add a touch more cream to thicken or a teaspoon of water to smooth if needed).
Dice the remaining strawberries and place them at the bottom of two glasses.
Pour blitzed strawberry cream cheese on top of diced strawberries.
Place in refrigerator and allow to thicken (approximately 30 minutes).
Sprinkle with coconut and serve.