MOZZARELLA STYLE SHREDS/SLICES

CHEDDAR STYLE SHREDS / SLICES

CASHEW CREAM CHEESE
Our dairy free Cashew Cream Cheese is perfect as an added accompaniment on your salads and pasta dishes. Tastes great on crackers to entertain those hungry guests or enjoy as a spread!

CASHEW PARMESAN CHEESE
Our dairy free Cashew Parmesan Cheese is suited perfect to enhance the flavour of your salads and favourite cheese dishes!

SOUR CREAM STYLE
Delicious is an understatement! Use our sour cream on salads, nachos, tacos or any of your favourite dishes.

MAYO
STYLE
Our dairy-free Mayonnaise is the ideal partner to be used as a topping for your salads, or as a base for your sandwiches!

AIOLI STYLE
Our dairy-free Aioli has just the right amount of garlic punch to accompany sweet potato fries or wedges!

CHEDDAR STYLE
BLOCK
Our dairy free Cheddar Style block is suited perfect for your everyday cheese needs, such as slices for burgers, bite-size pieces for your cheese platters and much more!

DAIRY FREE CHEESE AND CRACKERS
Quick and easy for kids lunches or a easy ready to go snack for the road.

CASHEW CREAM CHEESE AND CRACKERS
Our dairy-free Cashew Cream Cheese and Crackers, "snack packs" are ready for any occasion. Take to work, school or simply a snack for the road.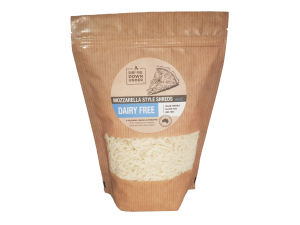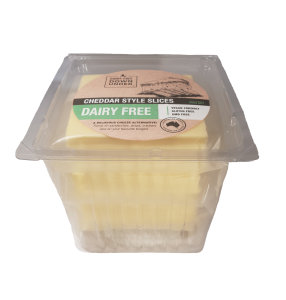 625g Sliced Cheddar
All products also available in food service sizes