When you think about an Aussie Christmas, what springs to mind? It might be some prawns on a barbecue slathered in garlic butter, a beautifully arranged cheese board, a pavlova, or maybe you just want to listen to 'How to Make Gravy' again to get the recipe down pat…
But one thing that many classic Australian Christmas dishes have in common is dairy – and seeing as you're here, either you or a loved one is no longer on the dairy ferry. So what do you do? What should you make? Is a dairy-free Christmas even possible? 
Well, we're here to tell you that yes, a dairy-free Christmas is possible! Not only that, it's far easier than you might think. Read on to find out how we can help you bring back the joy of the cheese board at Christmas, as well as to find a few awesome recipes that you and your friends and family can try. 
Dairy-Free Down Under is an Australian family-owned, Australia-made, and plant-based business. We are the premier dairy-free alternative company within Australia & around the world. We're here to make family meals inclusive for everyone, no matter what their intolerances are. If you're after the best vegan cheese Australia has to offer, find one of our stockists today.
What to buy someone who is dairy-free for Christmas
A couple of staples for many people across Australia and the world at Christmas are chocolate and lollies. Now lollies for the most part are dairy-free, however, they often contain gelatin so this could be something to watch out for if you have any vegans or vegetarians in the family!
On the other hand, chocolate often has dairy in it. The good news? There are plenty of dairy-free chocolate options nowadays, and you can buy them from Coles, or wherever else you usually shop including from the likes of PICO, Pana, Loving Earth, and even Coles now has its own vegan chocolate range! 
Another inside tip is to look for dark chocolate – most dark chocolate is naturally dairy-free (but not always, so still make sure to check…). But what if you're not after Lollies or chocolate? Well, we've got you covered. 
Dairy-free Christmas desserts
Gingerbread Christmas Cake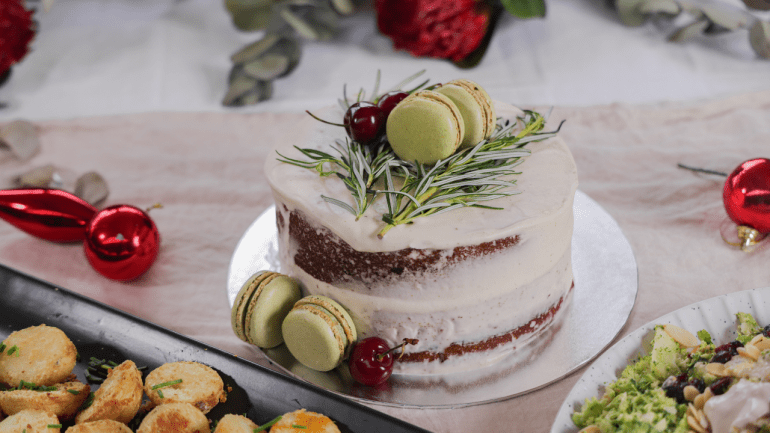 Christmas time is upon us, and it's time to bake up something special this holiday. Our delicious gingerbread Christmas cake is the perfect treat, whether you're vegan or simply looking for a delectable dessert without the dairy. Rich in flavour and sweetly spiced, our dairy-free Christmas cake will have your guests begging for more! 
Christmas Berry Cheesecake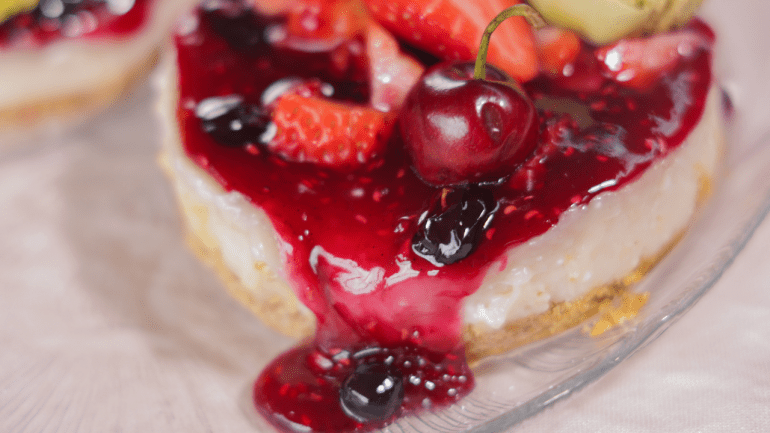 Introducing our fantastic Christmas berry cheesecake, made entirely dairy-free (and vegan). Whether you're vegan or just ditching dairy, this creamy cheesecake is sure to make your Christmas extra special. The berry topping is the perfect accompaniment to the creamy filling and the biscuit crunch of the base – it's truly irresistible! Enjoy this Christmas treat without missing out on any of the flavour. Best of all? It's a no-bake recipe!
Pavlova with Passionfruit Frosting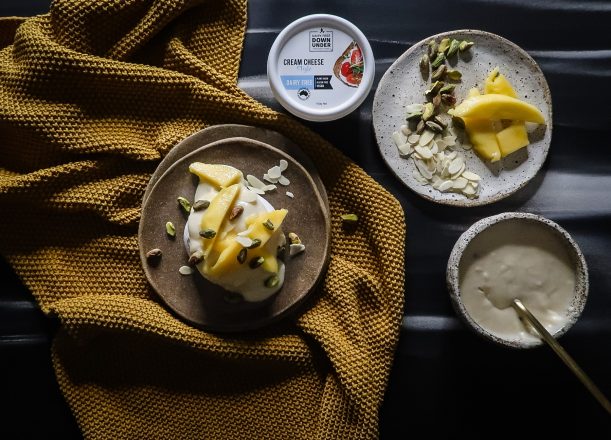 Does anything say "Aussie Christmas" quite like a pavlova? Well, what if we told you that the secret ingredient to this pavlova is the liquid from a can of chickpeas (known more appealingly as aquafaba)? 
That's right this is a dairy-free and vegan pavlova that is sure to please everyone at the Christmas table – even the most diehard pavlova peddlers. Trust us – just try it. 
Make a Delicious Dairy-Free Cheese board this Christmas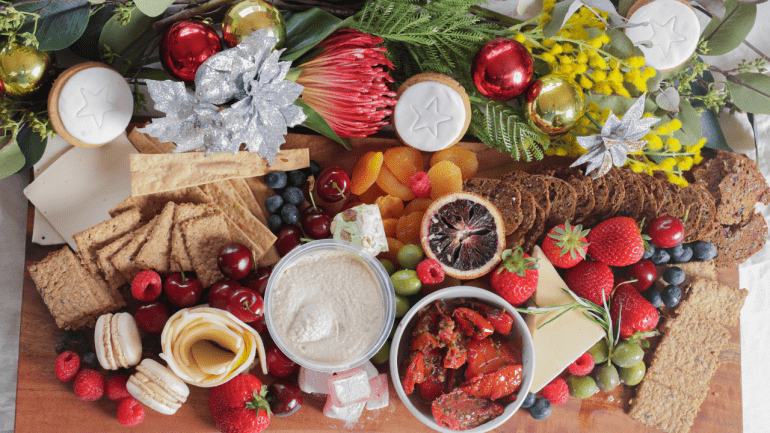 Three-quarters of the population have some degree of dairy intolerance, so it can be tough to make a delicious entertaining platter that will please everyone – unless you get these three plant-based products from Dairy Free Down Under for your Christmas dinner. 
Cheddar Style Block of Cheese
This delicious organic plant-based cheese has an organic almond milk base and grates and cuts well. It's a versatile all-rounder perfect for cutting into bite-size pieces or larger chunks for the platter. You can get creative with toothpicks, some basil and tomato or simply place the block of Cheddar Style Cheese on the board for people to slice away at!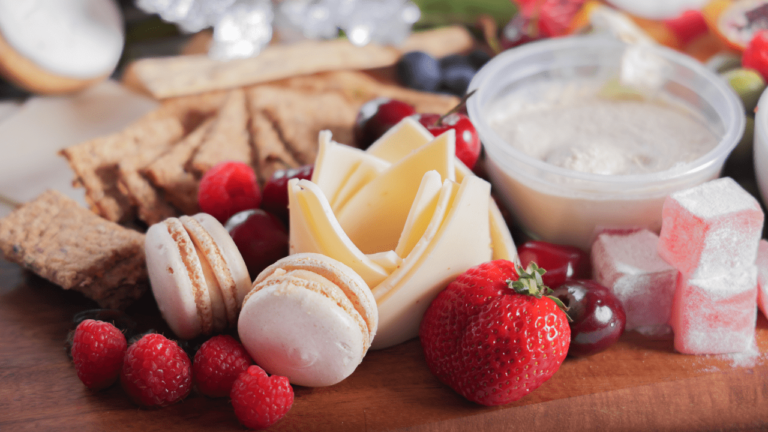 One of our favourite ways to serve one of our bestselling products is by folding or rolling the Ch-easy Mozzarella Style Slices as you would normal cheese. If you look at the platter's layout, you wouldn't suspect that it was made with dairy-free cheese! Yum!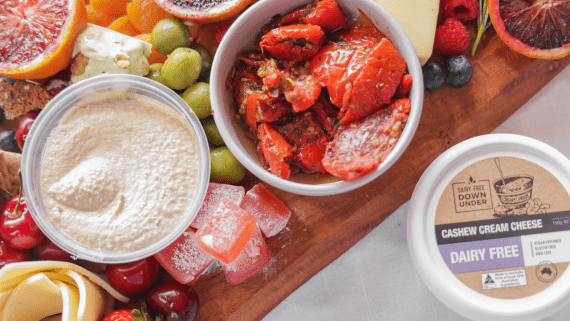 If you're looking for a delicious, dairy-free dip with a hint of garlic, look no further than our Cashew Cream Cheese. It's perfect for crackers or veggie sticks and is made with raw cashews. Just pull off the top and let the good times flow!
To make your meal more enjoyable for everyone, add a variety of other options or stick to plant-based foods. At our table, we love it when there's an array of fresh fruits and vibrant colours. Not only does it look appetising, but it also makes it very Insta-worthy).
Dairy-Free Down Under currently exports to 12 countries around the world and is looking to expand its outreach to assist our consumers with supply. Our mission is to manufacture and produce plant-based products that our clients can source globally. We believe great dairy-free options are for everyone! Find a stockist near you today.
Featured on Channel 7, Channel 9, and The Great Day Out (Channel 7). With articles in Food and Drink magazine, Australian Retail Magazine, the Gold Coast Bulletin, and many more.